Photographers

Louise Sedgman
Equine Artist & Photographer

(Louise has her own place in the gift shop, Her work is beautiful! Take a look)

Specializing in: -

~Stud Shoots~
~Photo Artwork design & Creation~
~Artwork & Portraiture in Pastel~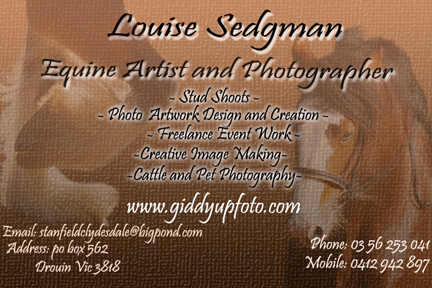 Contact Louise
 03 56 253 041 or
0412 942 897
Email: -  stanfieldclydesdale@bigpond.com


Delwyn Moss
Mobile: - 0401 244 645
www.dmossphotos.com.au
For all your Photography needs
Horse Events, Action Photos,
"Specialty" Canvas Prints, Art Reproduction,
Weddings, Special Occasions / Family Portraits,
Cars / Motorbikes
Sample Disks Available
(Choose an event & pick your own Digital Album)

Photographer Information:
Based in Goulburn Valley region of Victoria Australia - travelling interstate for booked events....
Offering:
Commercial & Personal Photography at very competitive prices.
A Friendly & Fresh approach to providing U unique work.
Modern Technology enabling efficient handling of images from pre to post production.
To "Capture the Moment" at events where a blink may miss the moment..
I aim to offer of all the traditional services of a photographer. Quality, Timeless & Unique work.
Contact me to further discuss your needs.

Peter G Macdonald
Water Color & Pencil Artist
Peter is an award winning watercolour and pencil artist specializing primarily in Working Horses and man's best friend, the dog. "I get great enjoyment from painting Heavy Horses such as the Clydesdale at work in the Australian bush. I have had quite a number of commissions to paint the ever faithful family dog. They have such interesting eyes, which I believe helps to bring the painting alive."