Welcome to Kevn Lees store
Specializing in artwork depicting the working Horse
For Information on other pieces or Ordering contact Kevn directly
He will be more than happy to discuss what he has on offer for you
This is perfect for the horse lover or the perfect gift for that person who has everything
All are unique
About the Artist.
For many years the clydesdale or draft singularly and in teams gave service in almost every part of Australia, whether it was in the fields or in the streets pulling along the wagon with the lastest edition of the newspaper, the horseteam is indelible part of our history. 
You can own your own very unique piece of Australian history with this charcoal drawing on Huon Pine of the legends themselves by the artist KevnLee.
This unique piece of Tasmanian Huon Pine portrays an actual working team. 
Kevn lee, a native Queenslander who migrated to the Island several years ago on a painting holiday and stayed.
KevnLee's artwork is owned all over the world in places as diverse and different as Japan, Italy, England and Canada as well as having peices in homes and buisness's in the Unitied States and all over Australia.
Based in Tasmania, this KevnLee piece not only brings you into to the life of these horses but also allows you a personal glimpse at the people who worked these animals.

Previously all of KevnLee's pieces have been sold simply on word and mouth by visitors and customers to the several retail outlets that display his works in Tasmania.  
If you have any queries or inquiries about this or any other works by Kevn Lee please feel free to contact us. 
---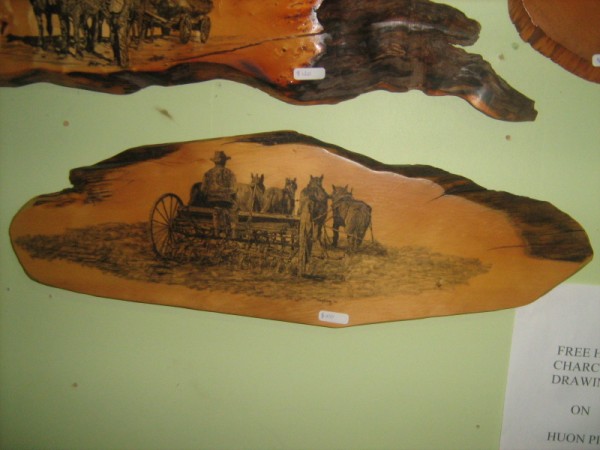 This piece is hand drawn  in charcoal, on a wonderful piece of  Huon Pine, which is one of the most sort after timbers in the world and is coated with a mixture  that offers protection so that your piece of memorabilia can be  yours  for years and years. Any marks  other than the charcoal, are marks that nature provides herself within the timber and will not deteriate making this piece of timber as unique as the legends we have paid tribute to.

It comes ready to hang with strong durable fittings on its reverse and is signed and dated in the artists own hand.The  piece is approximately 36 inches  across by 27 inches high and approximately and 1&1/2 inches thick. and weighs approximately 2.5kilograms when packaged for delivery.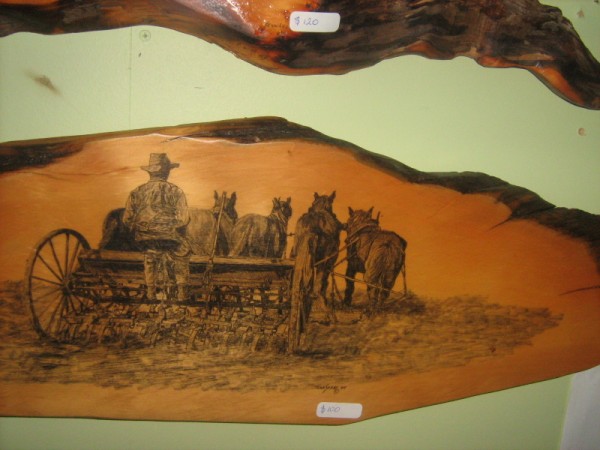 AU$ SOLD
---
 8 horse team and wagon In the days before Mack and kenworth, Horse teams were responsible for delivering most of the basic goods required by  people in Australia. These gentle creatures could pull loads of weight that in some conditions and circumstances couldnt be repeated today. without these animals be they Clydesdale  Shire or Drafthorse moved Australia from its infancy  to the country that we see today.
you can still see these animals occassionally displaying their style grace and strength, please take the time to appreciate these amazing animals. this piece by Tasmanian Artist KevnLee as with all his charcoal works are charcoal on Huon Pine coated with a blend that offers protection with the only treatment  needed is a gentle dusting over time.
The piece is  his size is 33 inches wide or 84 cms   9&1/2 high or 24 cms and 2.5 cms thick or 1 inch thick, thick of genuine huon pine which is one of the most sort after timbers in the world weight 1.9 kg so when wrapped he'll be 2 kg  plus postage and handling approx 20.00 the raw timber alone will cost you 35.00  the piece will be sent registered mail by australia post at a cost of 2.70 and a piece this size is generally speaking under 15.00 to anywhwere in australia. overseas buyers please contact us for more relevant pricing to your area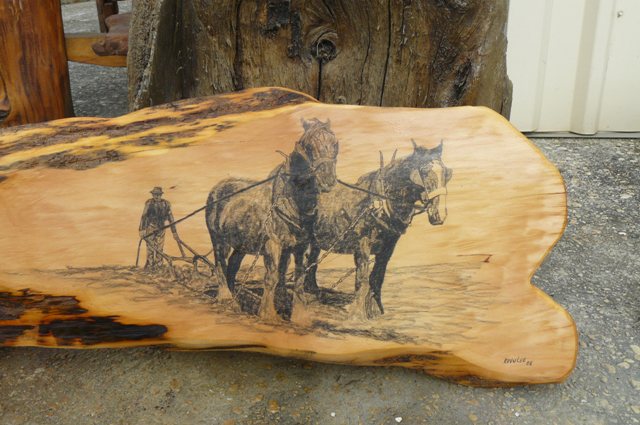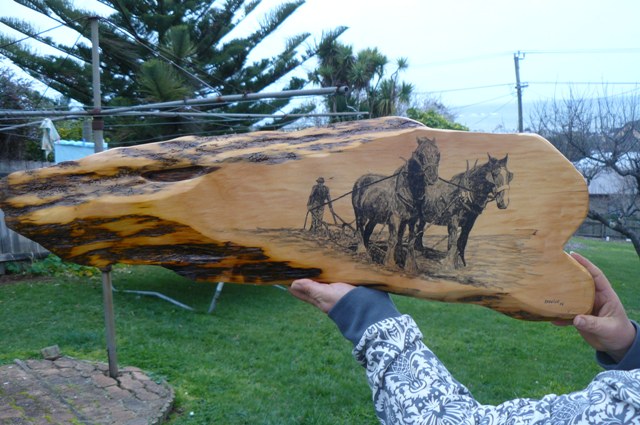 AU$ SOLD

---
  8 Clydesdales on Huon Pine imagine the skill it took to handle one  clydesdale with a plough simply by walking behind it holding  the reigns, now imagine 8 animals working in tandem. Two men driving them to accomplish so much  in the paddock from clearing to readying the ground, to watch this scene must have been awesome and inspiring. Within this piece we have tried to convey the scene of these  majestic animals at their best.
postage is generally under  well 30.00 to anywhere in australia sent australia post registered mail at a cost of 2.70 overseas buyers contact us for more relevant pricing to your area.
The piece on huon pine is approx 24 inches long 6 inches high and  and inch and an inch thick and weighs approx 2 kilos when packaged for delivery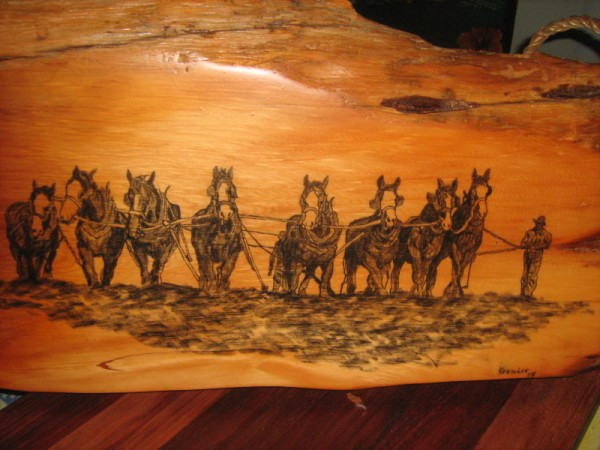 AU$SOLD 
Above close up view
below full sized view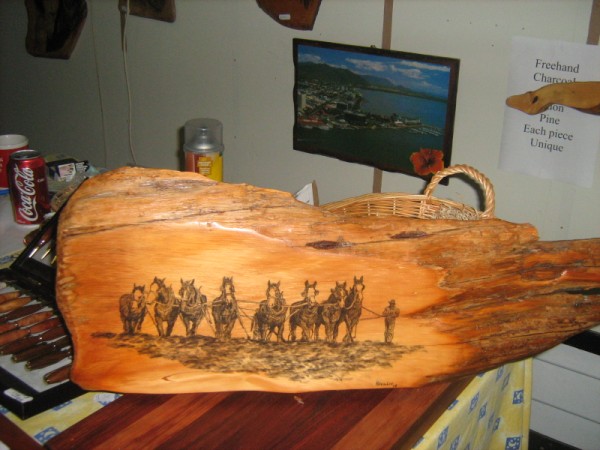 Thank you for looking!