C.C.H.S. Gippsland Clydesdale Horse Driving Day 2009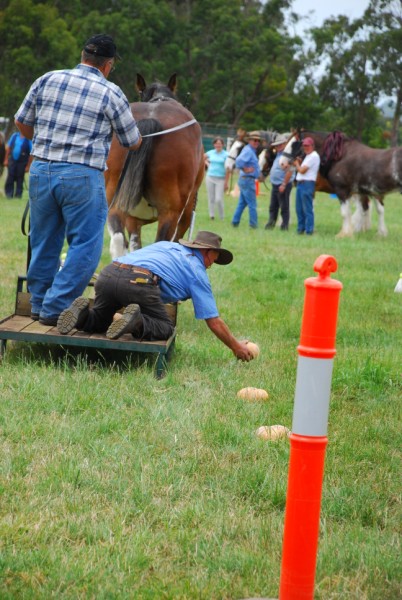 Held 10-1-2009  at Trafalgar Equestrian Park

The setting up for the driving day starts on the Friday afternoon and evening with committee members banging in steel droppers and running out safety fencing and electric tape.  Next came the measuring up and marking all the novelty and precision driving arenas. Obstacles were unloaded from the trailer for the driven in long rein classes, the ridden handy mount and the novelty events.  There were drums, many many 12' pine poles (donated by Weir Treated Timber in Drouin), cones, a large loader tyre for the pair of horses to pull, two horse drawn scoops and a horse drawn sled.

We usually have competitors turning up on the Friday night to stay over, but not this year.

An early start again on Saturday with a recheck of all the obstacles and safety fence and erection of all the marques.  Lindsay Crawford was there early setting up his speaker system and microphones. Our Safety Officers, Max Phillips from Neerim and Kevin Tyson from Warragul were busy making sure that all was well safety wise.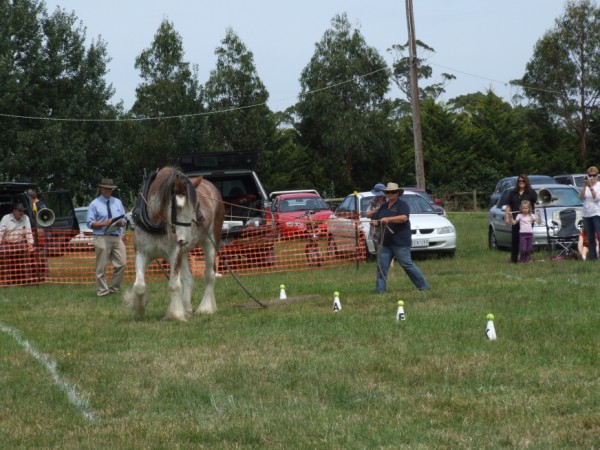 Our judges for the day were Matthew Marriott from Foster and Sheryl Grilles from Longwarry.

11 horses attended with 50+ spectators.

A very big thankyou must go to the Lions Club of Trafalgar for attending with the catering for the day.

There were long rein driven classes for youth and adults and novelty events on the day.  There was even two ridden classes for the big horses, Ridden Clydesdale and Ridden Handy Mount where the riders had to dismounting walking through a gate and then remounting, walking over and trotting over poles whilst carrying a bag of cans together with trotting around cones. Little Michelle Phillips (aged 11) rode Nuggett in the Handy Mount Class which showed just how versatile the Clydesdale horse is and how responsive and gentle they can be with such a small child on board.

The Ridden Clydesdale class was well presented this year with 4 entrants.  There was a ridden display by a competitor from the Moorooduc area who shows her Clydesdale and Clydesdale crosses at dressage shows and other hack shows.  It was a very impressive display.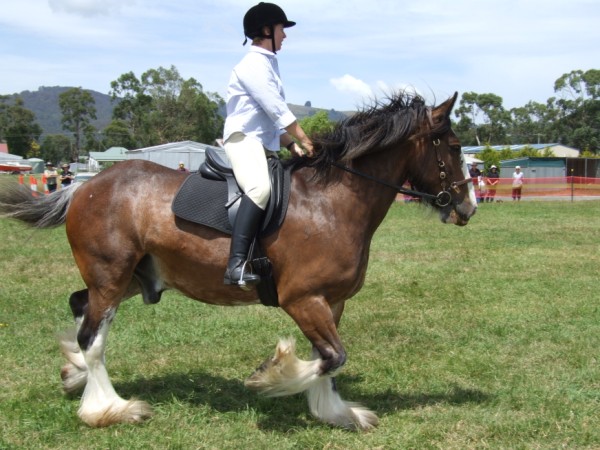 The program did have a 2/4 wheeled vehicle or farm implement class but there were no contenders for that event, hopefully next year.

The novelty events again went over very well with every competing in them.  The judge actually entered in the last event of the day, the Tag Team Race. This consists of three people racing against the clock and other competitors to harness up a horse and drive the horse back over the line. The event is not for the faint hearted or the unfit and also not for a horse that isn't accustomed to a human running towards them at break-neck speed (hopefully) with different types of harness in hand.  I think the horses were all wondering what all the rush was about.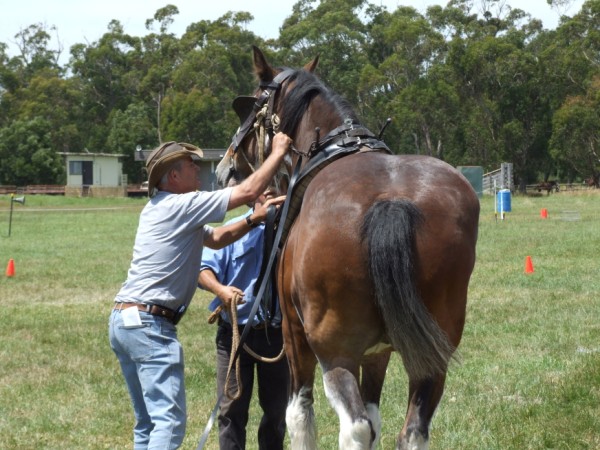 Noel Wiltshire from Wiltshire Horse Works of Kotupna came all the way down here with their harness and leather goods and put on a very informative harness display and showed the correct way to measure a horse for a collar and how to tell if that collar will fit.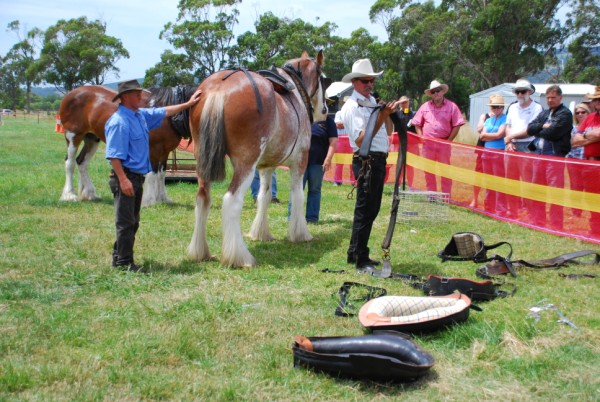 Louise Sedgeman had a stall there selling her framed and unframed photos of the heavy horses.  Her husband Stan harnessed up their newly trained mare ("Flossy")  to see how she would cope and she did well. 

The Hi Point Horse of the day went to Moorland Sinatra (Frankie) owned, trained and driven by Peter Allen of Yarragon.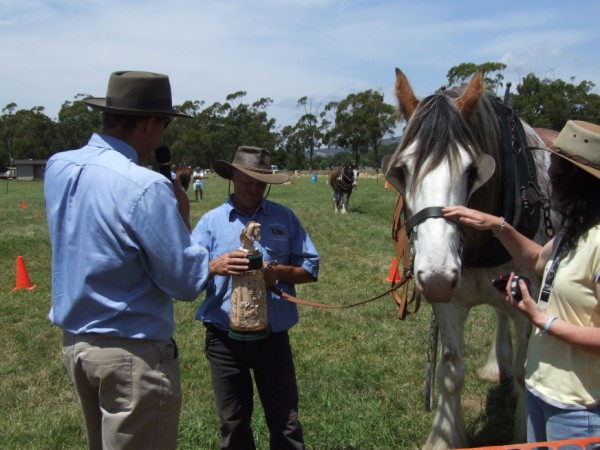 The continuous raffle went well with lots of happy winners. Naturally the first raffle prizes to be collected were the bags of horse feed sponsored by Drouin Grain Store. Some of the other raffle prizes were sponsored by Port Phillip Shop in Warragul who deal with RM Williams stock and Murray Goulburn from Leongatha. 

The day turned out not to be as hot as last year and the breeze was very welcomed and was enjoyed by all who participated and spectated and hopefully those and more will attend again next year.  .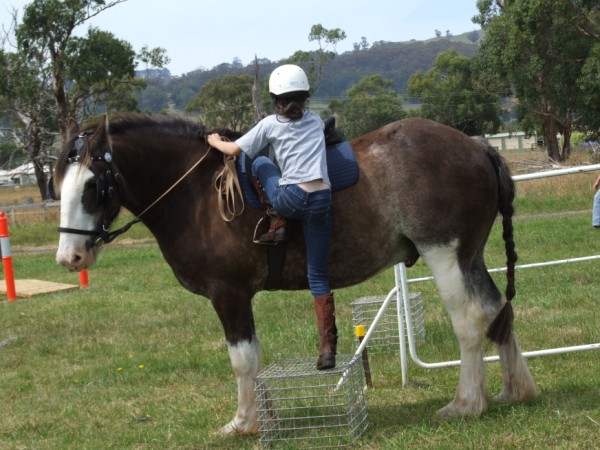 RESULTS

 

RING 1 - Judge: Sheryl Grilles

 

Gentleman Driver - 8

1.      Peter Allen - Frankie

2.      Geoff Peters - Will

3.      Laurie Smith - Stormy

 

Lady Driver - 4


Luana Brown - Maestro
Debbie Allen - Frankie
Louise Sedgman - Flossy
Terri Butler - Will
Youth Driver  - 1
Michelle Phillips - Nuggett
 

Ridden Clydesdale - 4

1.      Luana Brown - Gus

1.   Michelle Phillips - Nuggett

1.   Peter Cantwell - Connor

1.   Leanne - Stormy

 

 

 

 

 

 

RING 2 - Judge: Matthew Marriott

 

Pair horses pulling tyre - 3

1.                  Will & Mate - Geoff Peters

2.                  Connor & Stormy - Peter Cantwell

3.                  Frankie & Maestro - Peter Allen

 

Ridden Handy Mount - 2

1.                  Gus - Luana Brown

2.                  Nugget - Michelle Phillips

 

Pumpkin Race - 6

1.                  Maestro - Kevin Tyson and Peter Allen

2.                  Maestro - Peter Allen & Peter Xuerub

3.                  Connor - Peter Cantwell and Christine

 

Log Snig - 10

1.                  Stormy - Laurie Smith

2.                  Mate - Geoff Peters

3.                  Frankie - Debbie Allen

4.                  Frankie - Peter Allen

 

Scoop Race - 6

1.                  Bumper - Ted Bradley and Peter Xuerub

2.                  Rose  - Ritchie James and Leanne

3.                  Nuggett - Ken Phillips and Michelle Phillips

 

Tag Team Race - 6 teams

1.                  Connor - Laurie Smith, Peter Cantwell and Matthew Marriott

2.                  Maestro - Peter Allen, Ken Phillips and Debbie Allen