2008 Brisbane Royal Show
Congratulations Pauline on you achievement of 
Supreme exibit at Brisbane Royal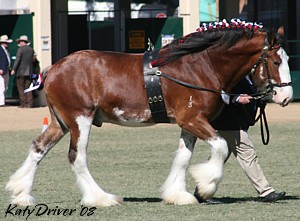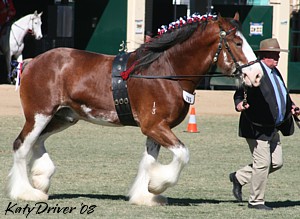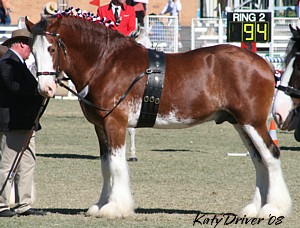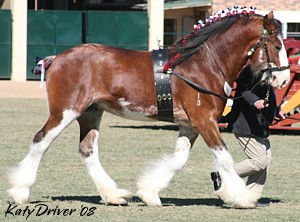 Photographer, Katy Driver  
 I don't know if you remember my colt,(as he would have been then,) Scotty.
His stud name is Lisborne Park Scottish Legend. I took him to Brisbane Royal
recently and won Champion Stallion and Supreme Clydesdale Exhibit with him.

Scotty is by the imported stallion, Hillside Lorton Legend who was imported
into Australia by the well known breeder, Colin Cox of the Valmont Stud.
Scotty is out of a Dillars Benedictine mare, Valmont Lady Helen, who herself
has 4 Scottish imports in her pedigree. Hence Scotty's stud name, Lisborne
Park Scottish Legend.

Scotty stands at just under 18 hands and is a quiet, gentle stallion. He
will now continue his stud duties at Lisborne Park.

The competition at
Brisbane was excellent with 62 horse catalogued and some very good young
stock and mature females presented to the judge. The classes were judged
this year for the first time by an international judge, Tony Bull from
Cheshire in England. Tony is a well recognised judge and breeder of both
Clydesdale and Shire horses and judged at Sydney Royal several years ago.
His comments on the horse were, "A big upstanding horse with plenty of
presence, with a good foreleg as well as hind and travels well."
Hope this is a bit of background for you.

Kind regards,
Pauline